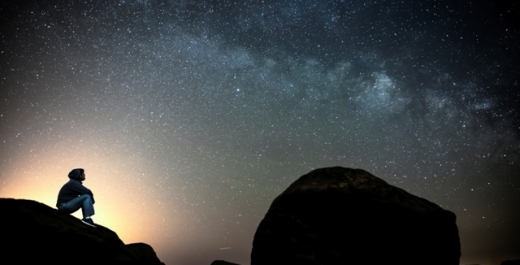 Have you ever looked up at a clear, starry night sky, and simply revel in awe and wonder. I do, and I encourage everyone to do so, especially if you decide to come learn Spanish in Fuerteventura, because now the island's night sky has been officially designated the third Starlight Reserve in the Canary Islands! This is basically a recognition of the island's exceptional conditions as one of the best places to view stars without the interference of light pollution.

So, what is 'Starlight Reserve' anyway? It's a concept that was created in 2007, in cooperation with UNESCO's World Heritage Centre. Basically what they look for are places that are committed to preserve the quality of the night sky and its associate values, whether they are cultural, scientific, astronomical, natural, or landscape-related.
Fuerteventura is actually the third island in the Canaries to receive the Starlight Reserve  designation, with La Palma being the first ever Starlight Reserve, and Mount Teide, in Tenerife, also receiving this status. In other words, the Canary Islands is a dream destination for astronomy enthusiasts around the world!
A visit to Fuerteventura isn't only the best way to learn Spanish, it's also a unique opportunity to inspire a passion for astronomy, or to experience the beauty and complexity of our universe, through the dark skies of the island.
So when you're here don't miss the chance to observe the cosmos through Fuerteventura's unspoilt skies. After a day of surfing, venture away from the bright lights of the town into the darkness and you'll be rewarded with a stunning view of billions of stars, planets and neighbouring galaxies.
So where, exactly, is the best place to see the stars? Some of the best observations can be made at the incredibly dark spot of La Atalayita, Pozo Negro, where you'll be surrounded by mountains and the whispering of the nearby ocean… a stunning observation point. Other equally fantastic spots are Barlovento, Cofete, Los Molinos, Paso Chico in Tindaya or Tefía, where Fuerteventura Astronomical Observatory is located.
Where ever you choose to go I recommend you wear warm clothes and always take your comfort into account: bring a blanket and something to lie on, as well as drink to warm you from inside. Basically, if you're well prepared, you'll be guaranteed to have a truly magical experience!
If you're like me and you don't usually travel with your telescope there are several companies on the island that offer stargazing activities at very accessible rates. They offer wonderful observations that last between one and three hours and include a telescope, laser pointer, and is always led by passionate astronomers and starlight chasers.
For those of you who would really like to delve deep into the subject, some companies even offer multiple-day astronomy courses or workshops. With a few hours of theory plus observation each day. You can choose the topics of the workshop, from basic to advanced and even include an introduction to night photography. As a plus, through astronomy you'll discover a whole new and authentic way to learn Spanish!
So as you can see, being a Starlight Reserve has given Fuerteventura an extra dimension as a tourist destination. The same night sky that once represented the deities of the ancient people of the island – the 'majos' – is now the main attraction for a whole new kind of traveller, one who is in search of the stars!
On a side note, I have to give honourable mentions to our neighbouring islands of La Palma and Tenerife. As I mentioned earlier these two destinations were the original Starlight Reserves that paved the way for other sites throughout the world to receive the designation.
La Palma, with its wondourfly lush hiking trails through the ancient volcanic crater that is today the Caldera Taburiente National Park, holds one the worlds most important observatories. While Mount Teide, Spain's highest point and the third highest volcano on a volcanic ocean island, is a wondrous sight to be seen (and to be climbed!).
I'll no doubt expand on both places in a later post. For now enjoy the rest of your day, and when night comes, I bid you to look up at the stars!