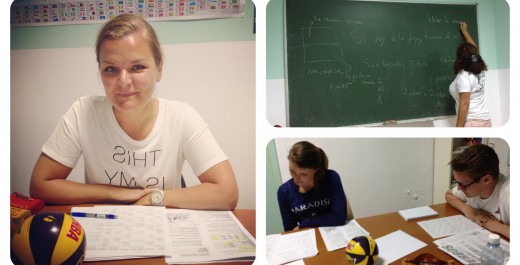 "The Spanish course with Montse, my teacher from Barcelona,  was a lot of fun and improved my Spanish rapidly.
After the physical exercise in the day came the mental exercise in the evening. We came home from surf around three in the afternoon and at five p.m Spanish lessons began. Spanish classes were held Monday to Friday between 17:00 – 19:00 in an office space three blocks from Casa Carmen. When booking the Spanish & Surf – experience we received an initial spanish test to assess the level and turned out the northern trio were in the same group.
The first week our teacher was a fun spanish lady called Montse. She spoke mostly spanish which I liked, and we focused on refreshing our rusty spanish vocabularies by repeating typical verbs and frequently used words to describe things. We received handouts with tasks and helpful grammar that we used as we practiced speaking. Aline, Steve and I had all studied basic Spanish before at some point in our lives so the principles of the language were familiar, but we just needed to get the speaking flowing. Montse asked us to describe our days and habits using past, present and future tenses, and I could feel my saltwater filled head working so hard going through my brain searching for the Spanish i learned in university in 2005, and I was almost sweating from the effort. One day we were given an assignment where I was acting a fortuneteller "La adivina Mónica" and I had to read the future of the classmates from my fortunetelling ball. "Vamos a ver…" I said and stroked my ball and made up crazy stories that could have been pulled out of a real spanish Soap Opera. This kind of exercises were exactly what I had hoped for. Playful and fun yet actually practicing conjugating verbs and practicing speaking, because even though you usually understand a lot, the most difficult part is getting the sentences out of your own mouth.
But while playing fortuneteller the spanish just flew out of me like fireworks and in a very rapid Spanish tempo. For the sake of my fellow students let's hope none of the things I predicted will come true…
By Monica Gren