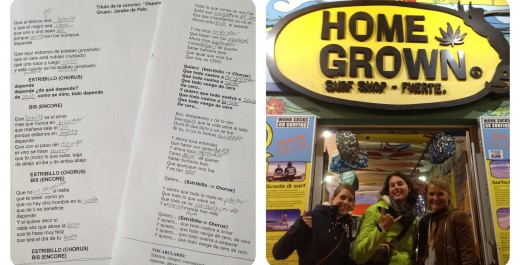 After spanish lessons with Montse the first week, our study group changed a bit and now the second week our group consisted of four girls; three Germans and one Finn. The teacher also changed and we got to learn spanish "the Jorge style".
Jorge, who is the founder and owner of Spanish and Surf, is also a great language teacher. He is very positive and supportive and focuses on getting the students to actually speak and learning to explain things in spanish. And practicing a language in more unconventional ways is both motivating and fun…and it can get a bit entertaining as well if you happen to admit that you like singing and listening to spanish music.
Well, that's what I did. I admitted my weakness for spanish male singers that sing cheesy love songs about heartache and longing. Because for me it has been a great way to learn new spanish words and phrases. Maybe a bit dramatic phrases that necessarily do not apply when doing grocery shopping or ordering food in a restaurant, but you never know when those Ricky Martin lyrics might come in handy!
So the next day we got a new exercise in class. Jorge handed out sheets of papers with song lyrics on with blank spaces for missing words. Then we listened to the spanish song a few times, filled in the missing words, and sang the song. The first song was a spanish rock/pop kind of song with a catchy chorus. I think Inga and I were singing the chorus out loud during the rest of the day at Casa Carmen as it got stuck in our ears like a real "ear worm".
– Depende, de qué depende? Dependeeeeeeeee…
The day after that me and my big mouth got my sappy love song. But this time I had to sing the chorus alone.
– Quierooooo…que todo venga de cero, de cerooooo…
Thank God I was very tanned from the wonderful Fuerteventuran sun by then, because underneath my sun tan I was blushing like a tomato!
And after that another "ear worm" was born. So now Inga and I were walking around Corralejo in sudden outbursts of a mixed:
– Quieroooooo…quieroooo, dependeeee, de qué dependeeeee…quieroooo!
By Monica Gren