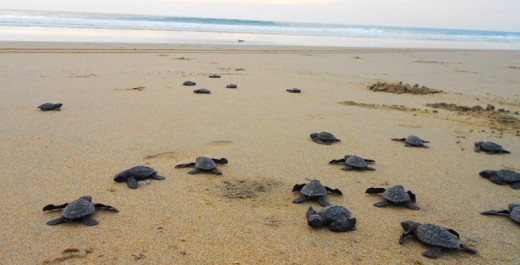 We so far have talked about many of things that make Fuerteventura so special and why coming here is really the best way to learn Spanish… not to mention do some surfing.
But besides surf and Spanish school the island offers a number of activities that are unique to the Fuerteventura experience. Here are five more good reasons to grab a suitcase and spend some time with us here in our sunny Atlantic island:
1. Release of loggerhead turtles at Cofete Beach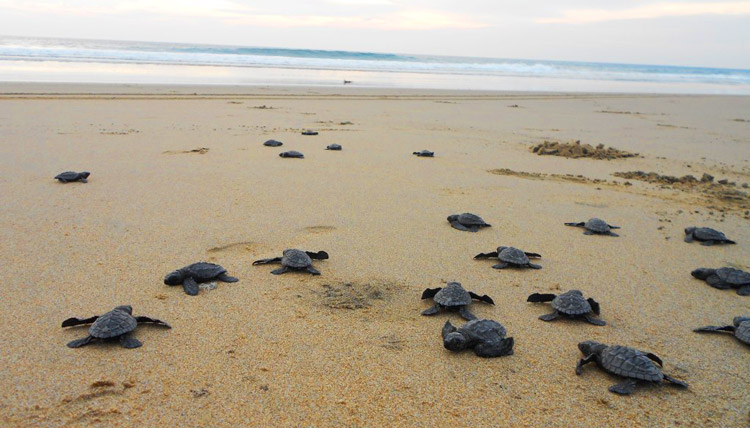 Fuerteventura's waters are home to four of the eight known species of sea turtle, which is one of the reasons why the island, together with the collaboration of the Republic of Cape Verde, have spearheaded a project to reintroduce the beloved loggerhead turtle, both on the island of Boa Vista (Cape Verde) and on Fuerteventura's west coast.
Numerous volunteers gather throughout the year at the breathtaking Cofete beach, to release hundreds of this majestic but endangerd species. I recommend anyone to join them and live a uniquely fulfilling experience that will connect you with nature in a way you've never felt before.  
2. Walk through the Dunes of Corralejo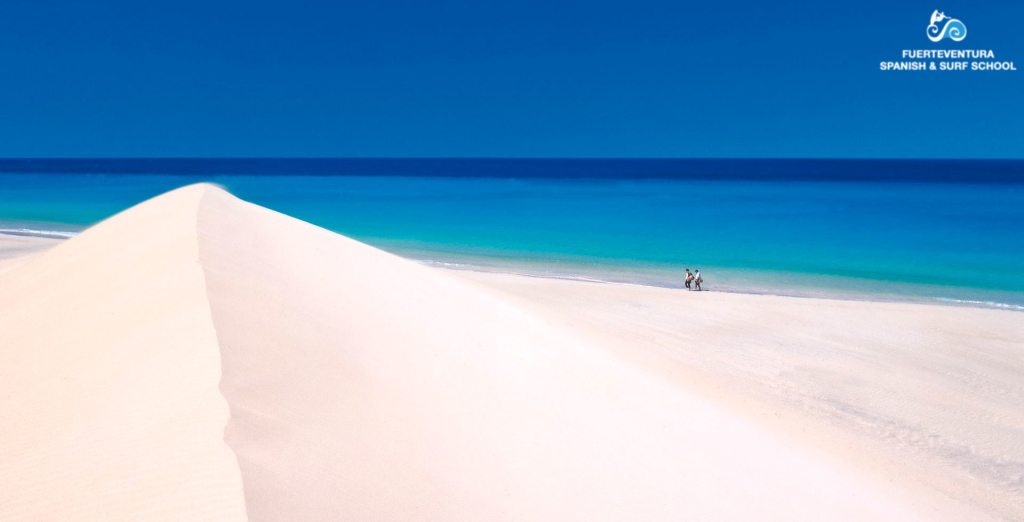 Taking a stroll through the Dunes of Corralejo is so stunning and spiritual that I will have to dedicate an entire post only to this experience in the near future. This place is one of Fuerteventura's most impressive natural parks: a strip of land of eight kilometers long by three kilometers wide, it is a natural oasis, remeniscent of the sandy Saharan landscape.
Its dunes are in constant motion, uncovering age old marine fossils which are scattered throughout the area, making your walk part pleasant excursion, part archaeological expedition.
As if the dunes themselves weren't beautiful enough, the scenery is accompanied by the turqouise waters of the Atlantic on one side and the dramatic, red volcanic landscape on the other.
3. Kayak to Isla de Lobos (Lobos Island)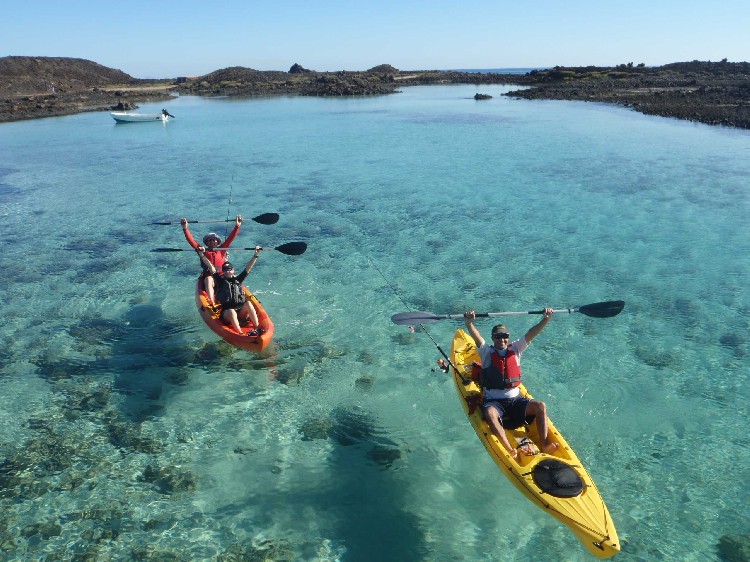 Of course, you can't really have a full island experience until you get a little wet, besides surfing in Fuerteventura, one of the more adventurous activities you can do in the ocean is rent a kayak and head over to Island of Lobos. "Lobos" is the Spanish word for "Wolves"… but don't worry, I've never run into any wolves on the island and last I checked the fauna there is rather friendly☺. The name actually comes from the monk seals (or sea wolves) that used to inhabit the island but are now rarely seen.
After setting sail from Corralejo one can soon appreciate, at a distance, the majestic beauty of this quiet, lonely little island. Located in La Bocayna, which is the strait between Fuerteventura and Lanzarote, Isla de Lobos offers its visitors a day of sunny relaxation and/or adventerous trekking, finishing off with delicious seafood and paella (served by the only establishment on the island).
If you aren't sure of doing the expedition by yourself there are a number of guided kayak tours available. They take approxamately four hours and may include some snorkeling and/or boat ride.
4. Sunset at Cotillo

You don't have to be a hopeless romantic to enjoy a good sunset… and very few sunsets are as beautiful as the one seen from El Cotillo.
This quiant fishing village is my favorite town on the island. It's an ideal place to enjoy some of the best seafood in Fuerteventura and have a tranquil evening in its crystal clear water and fine sand.
It's a short drive from Corralejo but I prefer to walk or grab a bicycle and hit the bike trail, enjoy the scenery and arrive there just on time for the sunset.
5. Climb Tindaya magic mountain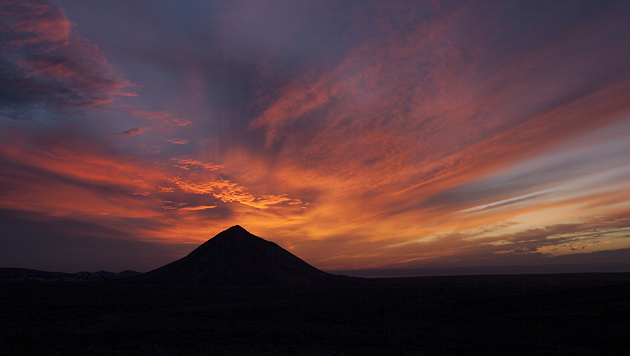 I mentioned earlier that walking through the Dunes is a spiritual experience… if you're seeking more experiences like these (or adventure in general) than I must recommend you take your hiking boots and climb one of Fuerteventura's most iconic points, the Tindaya Mountain.
The Tindaya is the sacred mountain of the indegenous 'Majorero' people of Fuerteventura. An imposing pyramid of rock that magnificently rises in the middle of an esplanade, noticably separated from any other mountain or volcano.
The climb here is a relatively easy one, although only appropriate hiking footware is recommended because of the many rocky surfaces one encounters. Avoid climbing on windy days as this would make the hike very challenging and could hinder your enjoyment.