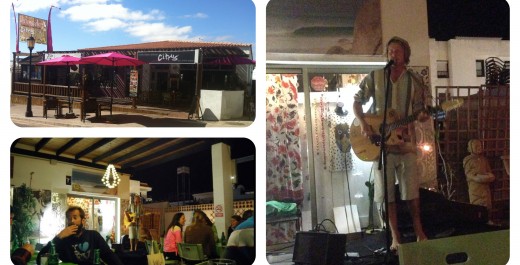 Some people go on afterwork drinks, others go on "aftersurf" hamburgers and beers.
Every Tuesday at 8 p.m. the Homegrown surf students from Casa Carmen and Casa Hilda and the surf teachers gather at Citrus Surf Cafe to catch up and hang out over some food and drinks. It is a nice way of getting to know each other better because in the water you have no time for chatting. When a good wave comes you have to go take it! That's the rule. No time for deep discussions and gossip. It is also a good opportunity to analyze the days surf session and learn some credible surf lingo.
But at Citrus they usually reserve tables for Homegrown surfers and it is a nice laid back and relaxed atmosphere to chat, laugh and listen to some live music. For big groups like us there is a menu offer that include nachos as starter, a delicious home made hamburger (either meat or veggie) with fries and either a beer or a glass of wine. This all for only 10 euros! Definitely worth it and won't leave you hungry. The staff is super friendly and helpful and the restaurant has this cozy half covered terrace in the back where the small stage is. Every Tuesday there were live music at Citrus and to my surprise the musicians were really good! One of the artists that stuck in my mind was a swedish guy called Jonah Lake (www.jonahlake.com) who played sort of reggae versions of famous songs and also his own composed music. His music was perfect "surf music" with titles such as Don't grow up, it's a trap and Water on my mind portraying the surfer's lifestyle and thoughts in a smooth way.
Citrus is located on a side road from the main street of Corralejo, close to the roundabout. The address is: Calle Anzuelo 1, Corralejo 35660, Fuerteventura. You can also check out their website for more information: www.citrus-surfcafe.com
It is definitely worth a visit with or without the fellow surfers or housemates. And yes. They do have free wifi!
By Monica Gren