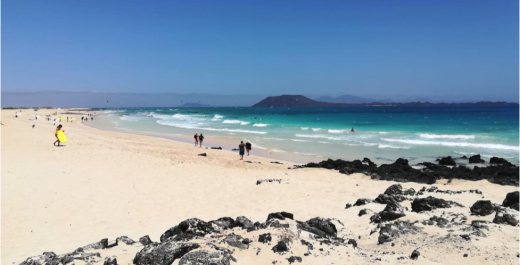 My introduction to the island was well underway when I took my first surf class of the holiday. I am tossed into what I now dub "Surf Boot camp" – 3 full days surfing! By the end of these first 3 my nose is a brilliant red – oops! – and I have now invested in a zinc stick in my favorite colour purple. My shoulders are sore and my hair is salty and I remember exactly what draws me to vacation beside the ocean. When I catch my first wave of the session, I am reminded of the first wave I ever caught in the off of Cape Town, South Africa. I love surf!
Each surf day I am picked up in Home Grown's yellow bus at 950, and brought to one of the many beautiful beaches in Fuerteventura – Flag beach, Punta Blanca, Burro beach…. The list is endless! Fuerteva is definitely showing me exactly what makes the island such an amazing place for the sport. The rolling green ocean is dotted with follow surfers, and my group of 5-7 surfers follow our instructor into the water. We are wearing yellow rash guards, and I imagine we are ducklings following mama duck into the waves.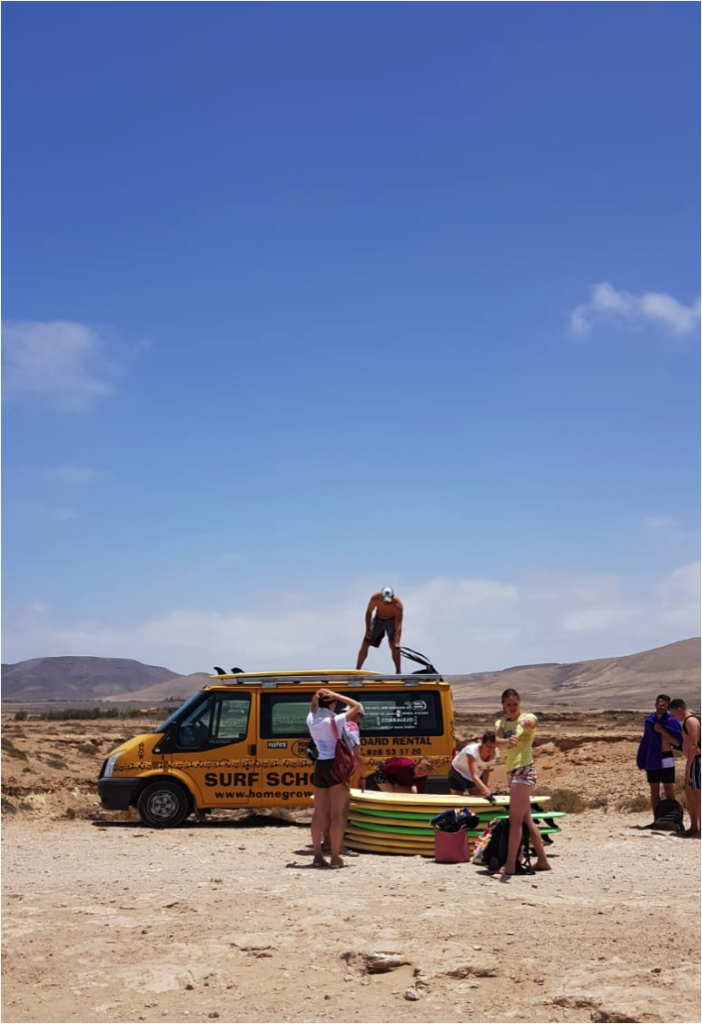 Not your average yellow school bus! Home Grown Surf school picks you up every day right outside the Casa Carmen door. After unpacking the boards get ready with a warm up, surf theory and put it into action in the ocean!
Over these 3 days, I meet 3 amazing and varying instructors at Home Grown. As I progress from introduction, I find my groove in the waves & Home Grown responds by matching me with the intermediate instructor Fabio. I am matched with the perfect instructor – one with lots of knowledge to push me further in the sport. Along with that, I was joined by a  rotating group of people who cheer your successes.
At the end of every day I am happily exhausted and have just enough time for a quick lunch – my favorite in pinchos at Gilda, before spanish lessons. My teacher is Iris, a native Canarian and impressively fluent in english, german, french and (of course) spanish! Her welcoming smile and outgoing attitude quickly melt any hesitation you have, and the class is quickly forming basic spanish sentences. My classmates are a group of 5 people with similar spanish level (beginner for me!). Some are fellow surfers, some are just in Fuerteventura for the language while some working here. I enjoy each lesson, and I feel like I am trying a new language amongst friends.
After spanish, I meet up with surf friends from both Casa Carmen & Casa Hilda and enjoy a friendly meal while taking turns to explain ourselves, what are the best spots for an afternoon on the island, like popcorn beach, hiking the nearby volcano, and day trips to the neighbouring island, Isla de Lobos . By the end of the evening, I have an infinite set of adventures I can choose from in my next three weeks. Will I learn kitesurf? Dune buggy across the alien landscape? Drink cocktails on the beach until the sun sets? All are options I want to explore!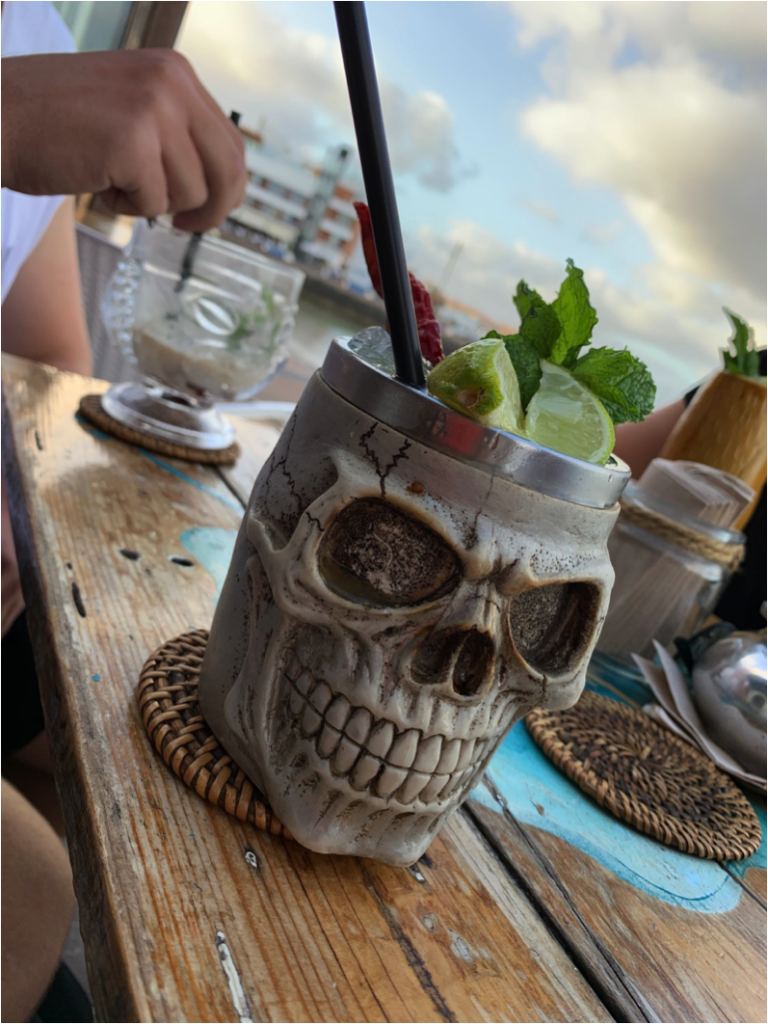 Don't be scared! The spicy margarita comes in a skull, but you'll be served it with a smile & you will quickly be ordering another!
After dinner we grab cocktails at the waterfront bar Swami. A fun Hawaiian themed bar with cocktails served in tiki mugs, and creations that range from classic pina coladas to fun creations like spicy margaritas boozy smoothies. A must try for those in the mood for a tropical beverage!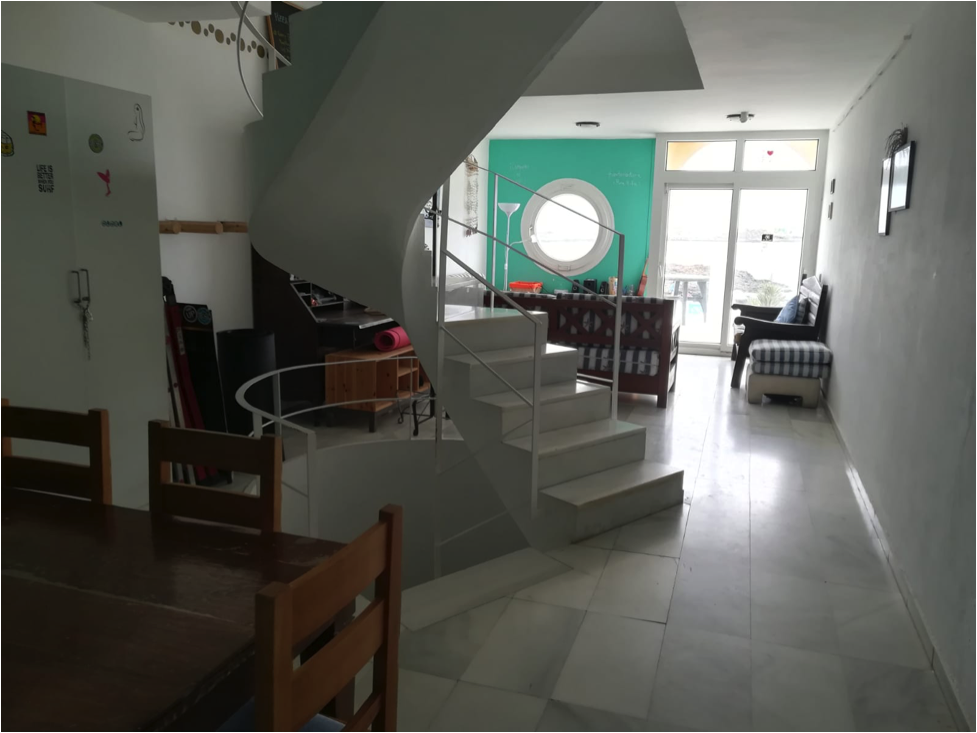 Welcome to Casa Carmen, home away from home!
After a few beverages, I return to Casa Carmen. Unlike most hostels, Casa Carmen is a beautiful 4 story, waterfront villa. The oceans views may distract you from the clean, marbled floor interior with 2 levels of living space, 2 bathrooms and kitchen. I fall sleep listening to the waves crash outside the window from the girls dorm on the top floor. The next morning I am greeted agin by the best view of the green ocean and blue sky. I can't wait to see what my next week brings!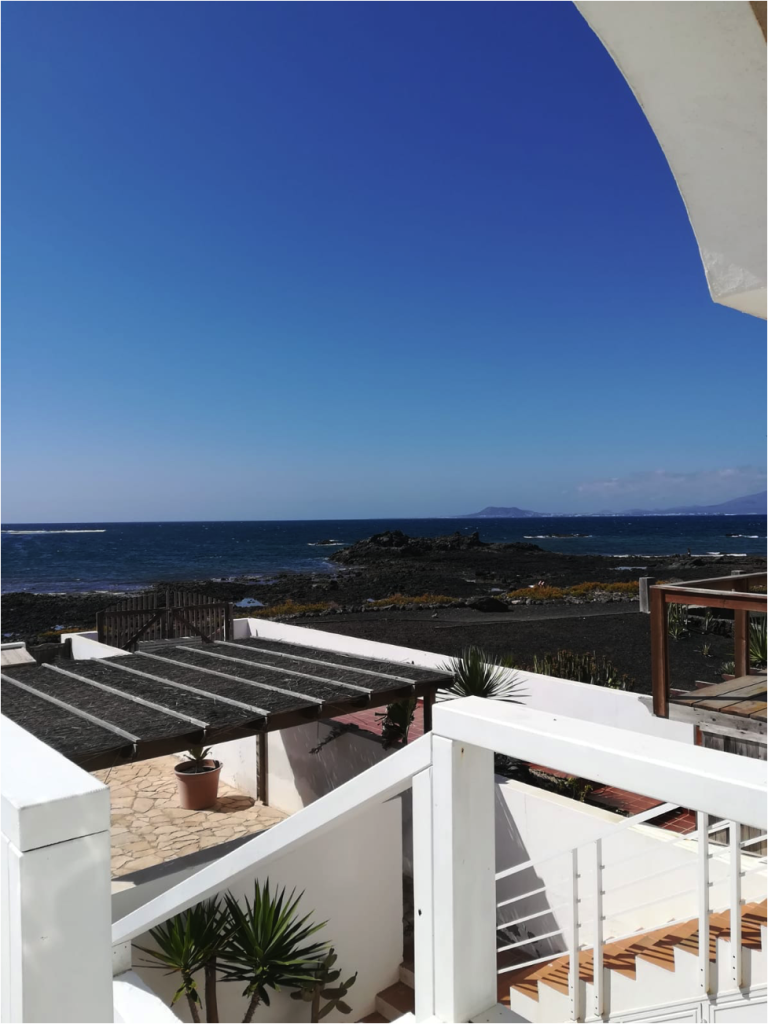 Good morning Fuerte! Our private deck gives an amazing view of the ocean and way off in the distance, Lanzarote. A great place to sip on your mug of coffee before another surf session!