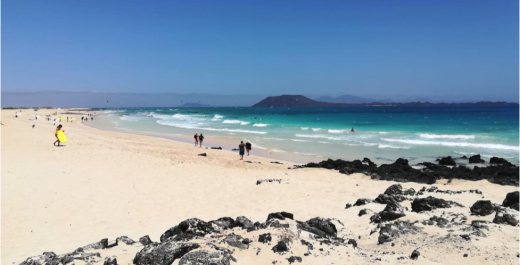 I get off the plane after the usual rush to go on vacation – pack this, remember keys, charge phone, show boarding pass, hurry-up-and-find-your-seat. At the end of the hustle, I am smacked in the face by the sudden slowing of pace. I'm now on island time in Fuerteventura! In my first few days in Corralejo, I am introduced to a town with a sunny disposition, a Spanish accent and waves I fall listening to.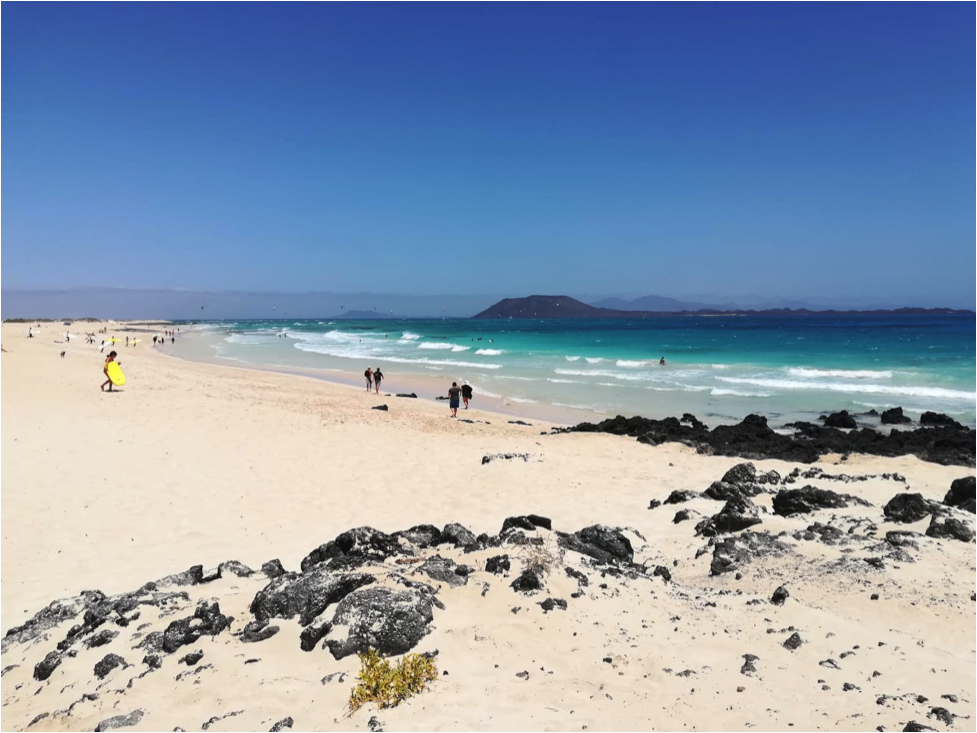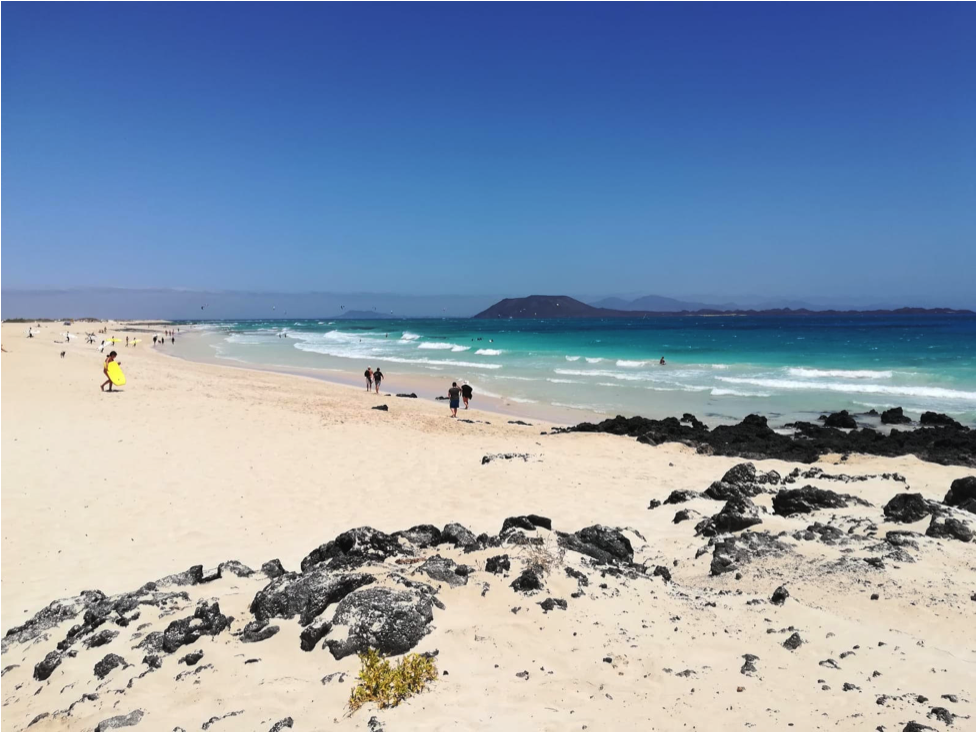 As I wait for my 30min shuttle bus to Corralejo from the Aeropuerto de Fuerteventura, let me introduce myself. I'm Carolyn, a 28 year old Canadian moving between Berlin & Amsterdam After a busy year working in Berlin's tech industry, I found myself with nothing to do and 30days before I move to Amsterdam. On a whim & great suggestion from a sister, I decided it was time to learn Spanish. I have to say there are a great many spanish schools to choose from, but my google search was halted by the aptly named "Surf & Spanish Fuerteventura" – a school in the far flung Canary islands, a region of Europe that's really in Africa that few Canadians have visited. It is a unique place to improve my language & surf skills. As I found in my first few days it will be a friendly and personalized experience. After speaking over email with the ever-quick-to-respond and friendly proprietor Jorge, I was sold that this would be just the place for me.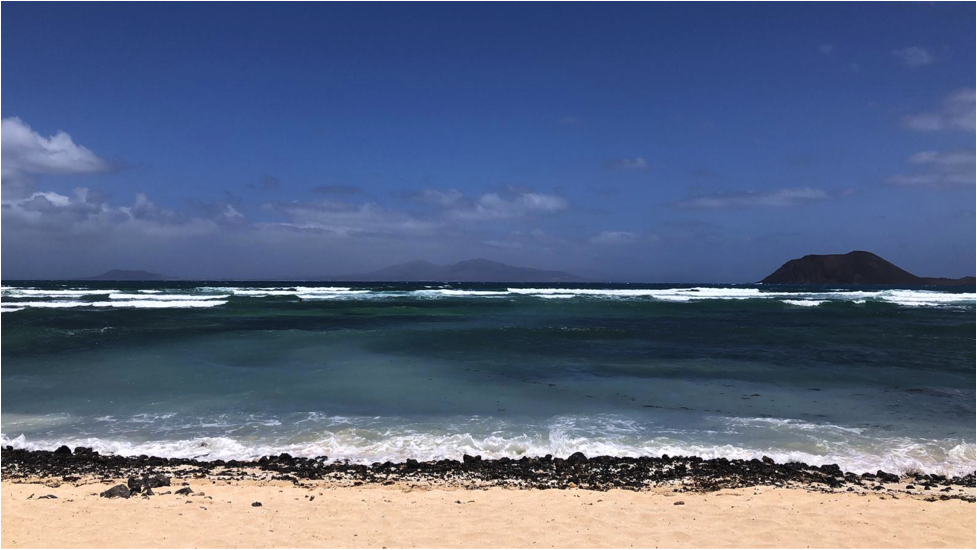 Breath taking views form the northern edge of Fuerteventura in Corralejo. In the distance, Isla de Lobos & Lanzarote
During my shuttle bus journey to Corralejo, Feurteventura's largest town, I am struck by the severe landscape. Fuerteventura rises from the ocean, created by volcanic rock and sand. Small tough little plants cling to the sandy rolling planes that eventually meet the Atlantic ocean. I feel like it is a landscape out of this world. I also see holiday homes, hotels and villages that dot the coastline. You can see the reason for this to become a vacation destination – Fuerteventura has the longest white sand beaches in the archipelago after Tenerife. Looking at the Corralejo National Park sand dunes and the nearby hotels, I feel like man has finally settled on Mars. I hope I will meet Matt Damon somewhere around here…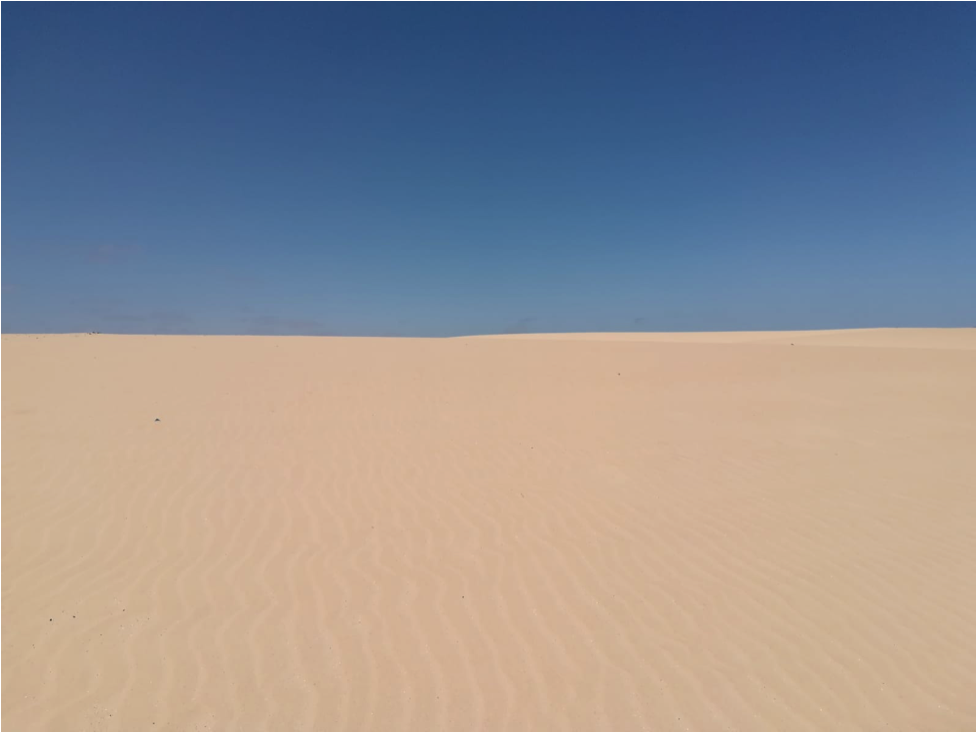 Morrocan desert? A far flung alien planet? Movies like Allied & Starwars have filmed in the sand dunes of Corralejo. Above is one dune in the Fuerteventura National Park. 
 I am greeted at the curb by the first of many friendly faces on this trip. An easy sign in process involving a quick tour of the Casa Carmen, the language school and directions in Corralejo, I am left to explore. I am glad to be on my own – but this is not for long! As the other residents trickle into the living room, I am greeted by a bubbly blond Autrian school teacher on her summer break. Ana became my de facto Corralejo spirit guide for the next 3 days, as she has already been in town for 3 weeks. She is already complaining that her time here is moving too fast. 
Instant friends in Corralejo. A group of travellers from around europe here to learn to surf, speak spanish or both!
I'm invited to join Ana for dinner along and quickly greeted by a motley crew of Italian, German and Swiss travellers, and swept off to my first meal on the island, Paella at Avenida Restaurante. I'm glad I have friends, as the mouth watering Paella is to share only! Fresh cooked seafood, saffron rice and lemon make up this classic spanish dish. Afterwards, we wander along the mainstreet of Corralejo where the signs for bars and entertainment are lit up. However, travellers seem to be sparse. Where is everyone? Aren't we in a classic beach vacation spot? I find out I have been lucky enough to come to town just before the season is in swing. This is great, as it gives me the chance to enjoy the town before summer vacationers pack the streets day and night.
When in Rome do ,as Romans do … er, Spainish do? Even a vegetarian like me can make an acception when dining out in Fuerteventura! Whole prawns, scallops and muscles are too much to resist in a classic this Paella.

I have arrived on the island from a busy life Berlin life, and I am readily welcomed into the Case Hilda & Corralejo. In the next few weeks I will be exploring more of the island – nightlife, fellow locals experiences, learning spanish and even more surfing. My first few days were jam packed, and I am excited to find out more about this island! In upcoming posts find out more about how the surf, spanish and sun mix together for my wonderful Spanish & Surf Vacation …