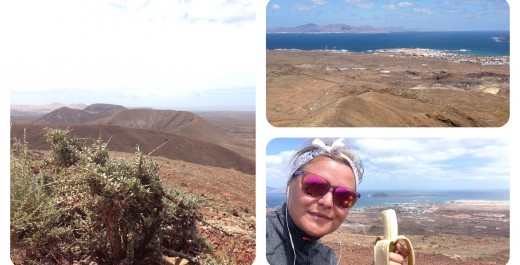 So I decided to conquer the highest volcano that stands closest to Corralejo.
If you have a day of from surf and your muscles allow you to take on a little hike, then I definitely recommend climbing up on one of those "hills" because the view is so worth it!
There is a group of volcanoes aligned in an approximately five kilometer long area six kilometers south-west of Corralejo. The volcanoes in this area are quite "young" (only 50 000 years!) and are called "the Red Mountains". The one I set my aim on was the closest one called Bayuyo Volcano with a huge collapsed red crater facing the town. So I put on my running shoes and leggings and packed a light backpack with water and snacks and started walking. The weather was nice and warm but there was (of course) the usual Fuerteventurian wind swirling around me as I approached the foot of the volcano. There were obviously different paths to the trail that led hikers up and around the crater and down again. I thought I was being logical and rational when I decided to circle the volcano clockwise. My decision turned out to be the harder way around though, meaning I chose to climb up on the steeper side of the crater and descend on the slant and easy side…but well, life isn't meant to be too easy anyway. A little climb only makes you stronger (and give your butt muscles some great exercise).
So there I was trying not to blow away to Lajares with the wind that had increased heavily. I was listening to music all the climb and I suppose I had the volume on really high blasting out the song "Ain't no mountain high enough" in my poor ears. When I finally reached the top i had to sit down on the pile of rocks that marked the highest point of Bayuyo. And the view!
You can see all of Corralejo and Isla de Lobos from up there. You can see across the sea to Lanzarote. It is like you are floating above the north of Fuerteventura, like on google maps. It's magnificent!
After catching my breath, re-fueling with some banana and cookies I got up and continued towards the other side that would take me down. Feeling happy and blissful, and being all alone on top of this volcano I started dancing along to the music in my ears. I walk-danced along the ridge of the crater with the sun in my eyes enjoying every step. Suddenly out of nowhere two British older gentlemen appeared smiling and saying hello. We exchanged a few phrases about the trail and the wind and wished each other a safe descent. I'm sure they saw me dancing and heard me singing up there. I continued down laughing and feeling a bit silly, but also a bit proud of my shameless dancing on top of a volcano.
The way down was easy and back on the ground I had regained energy to even jog back to Casa Carmen. Maybe dancing on a volcano gives you superpowers…
By Monica Gren