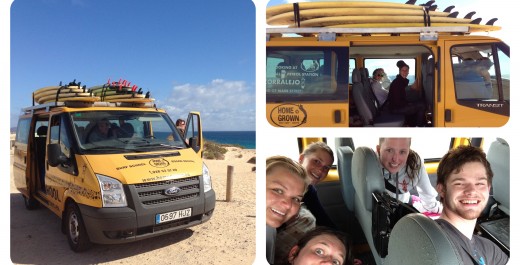 It is ten minutes to ten in the morning and you and your housemates are waiting outside Casa Carmen to be picked up by the surf van. The dazzling morning sun shining in your eyes and a collective feeling of anticipation and excitement for what the day will bring is in the air.
Then suddenly you spot the yellow van curve in front of the house and you hop in. The first surprise will be finding out who is going to be your surf teacher that day. I liked all of the Home Grown teachers I met, all of them being relaxed, fun, supportive people and really skilled surfers.
The next surprise will be finding out who is going to be in your surf group of the day. Your fellow surf students are picked up from Casa Hilda (another surf house) and sometimes also from the surf shop. So when the van is filled with eight people the introductions and chatting begins. It is fascinating to start talking to people from all over the world in circumstances like that and within twenty minutes or so notice how much you are all alike and how much common interests and opinions you share. Becoming friends happens so easily and the team spirit evolves so naturally. Often we even shared the same taste in music and one by one we started to sing along to the music played in the van. A car filled with singing surfers can't do anything else but guarantee a good atmosphere and an awesome surf session!
The third surprise of the day will be which surf spot we will be going to. The surf teachers follow the weather and wave forecasts and chose a beach break or reef break that best suits the level of experience among the surf students. I got to experience the surf spots El Cotillo, Playa Blanca, Playa del Moro and Rocky Point during my stay at Fuerteventura.
So part of the whole surf experience is actually riding the surf van. Thinking back on that part of the surf day wakes movie-like memories in me and I can almost hear my surf soundtrack playing inside my head, feel the Canarian wind in my hair, and smell the fragrance of wet wetsuit.
By Monica Gren