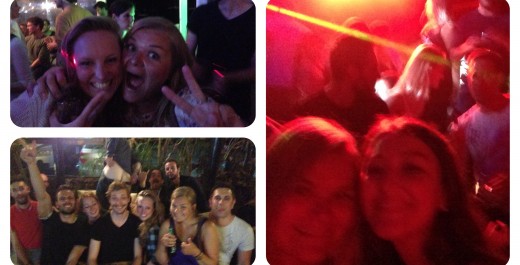 What is a vacation without a little bit of party?
Anyone who disembarks on this charming island and ends up in Corralejo will soon find themselves lost and caught in the holy Bermuda triangle of bars: Tequila Bar & Banana, Kiwi Bar, and Waikiki. It is not as dangerous as it sounds but you might not be returned to your accommodation before 6 a.m when Waikiki finally closes… This is usually how it goes:
You decide to go out for ONE beer or maybe two. You meet up with your new best friends from surf school and spanish school at either Tequila Bar or at Banana Bar next door. Everybody is happy, excited and you talk and perhaps listen to some live music and dance a little. Suddenly your beer is empty and you wonder how fast you actually inhaled that delicious Desperados… All your friends notice the same thing and you all decide to have your second drinks. The second drink disappears as quickly as the first and you justify your third drink with the fact that you have actually been surfing and doing sports earlier that day.
After the third drink (which probably consists mostly of strong liquor and a drop of soft drink) you stop counting because you are having too much fun talking, dancing, flirting, singing, and socializing. At this point the whole group of friends float through the city like a shoal of sardines towards Kiwi Bar to continue the fun. By now you have totally lost track of time and it is probably already closer to 3 a.m. Then someone utters the signal for moving on and the sardines swim happily to Waikiki night club where you probably end up dancing on the wooden boxes in front of the DJ's booth. Every time you hear "El Taxi" or "Bailando" or "Vivir mi vida" you and the crown go crazy and the amount of ass-shaking is immeasurable.
Then out of nowhere the music stops and lights go on. It is 5 a.m and club is closing.
Some of the friends might have disappeared during this journey, but if you are lucky your new admirer might be such a gentleman to follow you to your door (or carry you on their back because your shoes are hurting from all the dancing) and see that you safely get home (even though you are grown up and can take care of yourself) in one piece…
And if this happened to take place on a Thursday night, it isn't impossible that you might find yourself in the exact same situation again on Friday…or Saturday.
But it is worth it.
 By Monica Gren