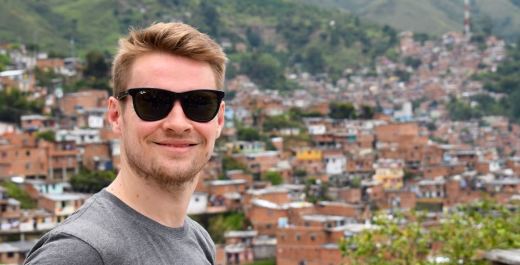 How a Trip to Fuerteventura with Spanish and Surf Inspired me to Start a Colombian Travel Company
Brief Biography
This blog post was written by Steve Dillon, former guest at Spanish and Surf Fuerteventura and now Co-Founder of Other Way Round, a culturally immersive travel group which brings together small groups of like-minded travelers and shares with them an off the beaten track, adventurous, insider experience of traveling through COLOMBIA. Here Steve talks about his experience with Spanish and Surf in Fuerteventura and how it influenced him to quit his corporate career and start his own travel company.
INTRO
It was back in March 2015 when I made the trip to Fuerteventura. I was living in London, was in the process of moving jobs and had happily managed to negotiate a 1 week vacation during the transition period. I felt in desperate need of break in order to recharge my batteries ahead of my next role but of course at such short notice none of my usual partners in crime were available to go with me. My Colombian girlfriend (now wife) was knee-deep in a work project and most friends either didn't have the time or money. It was either go alone or don't go.
At that time I was also studying Spanish and really wanted to up my rather basic level (so that I actually make conversation with my in-laws). I had initially thought it could be a great opportunity to go do a homestay with a family in Spain and really throw myself into the Spanish, but at the same time… I just kind of wanted a vacation. That's when I stumbled across Spanish and Surf (thank you Google) and decided to take the plunge.
I admit that I was a little apprehensive prior to the trip. Was I passing up on a great opportunity to really commit to learning Spanish? Would Fuerteventura be like one of those trashy, overpopulated tourist towns full of 'Brits abroad'? What would the other people be like going on the trip, would it be a bunch of weirdos? Would people think that it's a bit strange I'm going on holiday alone (and without my girlfriend)?
But honestly, within about an hour of arriving in Fuerteventura all of those fears were laid to rest. I was picked up at the airport by the Spanish and Surf owner Jorge, who was instantly likeable and seemed like a cool, friendly guy. Arriving in the airport at around the same time were 2 of my fellow students one from Germany and the other from Finland and we all hit it off straight away which was a relief. And on the drive back to Corralejo (where the school is based) I could see instantly that Fuerteventura was this beautiful, rugged and peaceful island far from rowdy tourist hotspot I had feared.
I really loved everything about this trip and it definitely made a mark on me, so much so that 2 years later I started my own tourism business in Colombia and see my experience in Fuerteventura as one of the key life milestones which encouraged my to take the leap.
What was so special about it? Here are some of the things about the Surf and Spanish experience which really left a lasting impression on me.
Fuerteventura is STUNNING
It really is. It wasn't somewhere particularly on my radar beforehand but the flights were cheap and I wanted some winter sunshine! But when I got there I was struck by the natural beauty of the place. The coastline is filled with an abundance of gorgeous white sandy beaches and clear blue ocean while the sparsely populated interior is dominated by a rugged deep red landscape filled with dormant volcanoes. The town of Corralejo itself is small and charming and the surf house at Casa Carmen is a very cool place to hang out and also comes with awesome views.
Vacations with a Purpose are AWESOME
This was the first time I had combined a holiday with learning a new skill and it worked out great. The Spanish classes, while being super professional and of a high quality, were also very relaxed and fun and so they never really felt like work. They only took a few hours of each day and still left me with plenty of time for surfing, socialising and relaxing. And at the end of my trip not only did I feel super relaxed and ready to start my new job, but I also felt a great sense of achievement that in only a short space of time my level of Spanish had improved dramatically.
Adventure Holidays ROCK
I'm a big fan of laying by the pool or the beach while on holiday and simply relaxing and enjoying the sunshine – but only for a short time! To do that every day for a week or even 2 feels to me like a bit of a waste of a trip and after a while can drive me slightly crazy. That's why the surf lessons were great. I didn't particularly know how to surf beforehand (I had tried it once before in Australia), I wasn't a particularly great surfer by the end of the week (although I did learn to stand which was a big win), but those couple of hours thrashing around in the ocean every morning were awesome fun. And they certainly made my afternoon siesta feel all the more well deserved!    
It's All About Sharing the Experience with FRIENDS
Those very first people I met in the airport when arriving in Fuerteventura? Well, they featured pretty heavily throughout my trip. We were in the same surf group and Spanish classes which helped, but we also hit the beach together in the afternoons, cooked dinner together in the evenings, shared a few beers and laughs together every night, and genuinely enjoyed each others company. Of course at times we each went off and done our own thing but I can definitely say that my experience in Fuerteventura was made significantly better by sharing it with complete strangers who quickly became friends.
MY PROJECT IN COLOMBIA
In 2017, along with my Colombian wife Marcela, we launched an immersive travel company called Other Way Round. Our mission is to bring together small groups of adventurous travelers and share with them the real and authentic Colombia that we both know and love. We currently offer 3 trips including 1 week in Medellin, 8 days in Cartagena and Bogota and a Colombia All-In-One tour.
Now while we don't teach our guests to surf (yet), we do provide experiences packed with purpose, adventure and a socially inclusive atmosphere which in large part were inspired by my very own experience in Fuerteventura. Thank you to Surf and Spanish for that!