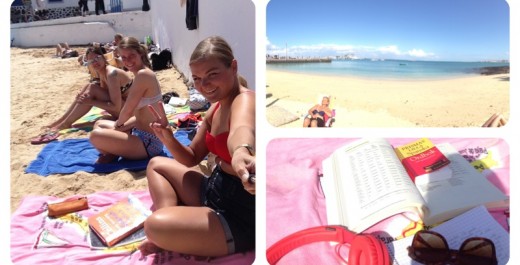 Some might wonder why one voluntarily attends "school" while on vacation or while traveling. But in my opinion you can never know too many languages. Language skills are such an awesome asset these days so the more "tongues" you speak, the bigger your playground becomes on this planet. So studying spanish in a place like Fuerteventura didn't exactly feel like school, more like a privilege.
And the word homework…well, some people might cringe upon hearing it, and I admit that we students giggled a little at first when we were assigned homework.
Homework?!? Here?!? Are you kidding us?!?
But, if you want to learn spanish (or any language for that matter) you need to practice both speaking and writing, and in class we focused on speaking and learning grammar. So as homework we had to write short essays in past and future tense about our days on the island. Fair enough. Essays coming up. A good way to actually use the knowledge you learn in class and actually think about how to express yourself on paper.
So, instead of sitting cooped up indoors we headed to the cosy little beach in the center of Corralejo with the girls from class and got to work on both our essays and our sun tans!
This is what I call northern european effectivity in paradise. ¡Qué brillante idea, ¿no?
By Monica Gren