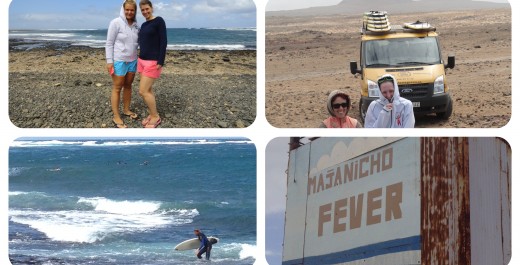 After our surf session at Rocky Point the surf instructor asked if we wanted to see some of the other surf spots along the north coast. As nobody was in a hurry we curbed on to the narrow dust road that follows the northern coastline all the way to El Cotillo. The road looked like a trail on the moon, like a trail through a desert not really suitable for the tires of a surf van, more likely a jeep or a buggy… But we passed one amazing reef break after the other seeing advanced surfers challenge the waves in the strong wind.
We stopped at Majanicho to have a look at the pros going at it in the swell. The wind was fierce as we stepped out of the car and a bunch of surf photographers sat huddled against a huge Majanicho sign for some shelter. Brave surfers rode long waves almost hitting the visible reef and rocks along the shore line. The view was impressive. The admiration for these guys grew as we watched and the tiny spark of hope of maybe some day being able to be one of them grew stronger…
Surf spots that we passed on our little off road trip were: Generoso, Mejillones, La Caleta, and Majanicho. From there we took the asphalted road towards the small village of Lajares and back towards Corralejo. On this detour we circled an alignment of volcanoes that inspired me to later go hike up on the nearest one to Casa Carmen.