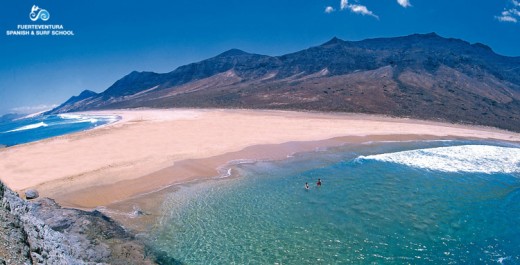 Or course we all know you want to come to Fuerteventura to learn Spanish… but let's not forget the fact that this is an island, and you know what that mean… BEACHES!
Those who are in search of sea, sand and sun will find paradise in Fuerteventura and its approximately 100 beaches. And you don't have to go to major touristic spots in order to find fantastic beaches (although those are beautiful also), part of the island's essence is its numerous coves and smaller beaches, with golden sand and calm waters, some of which are barely touched by man.
I've said this before and I'll say it again… this island boasts some of the finest coasts in the Atlantic, with white or golden sandy beaches which disappear in a sea (literally) of turquoise water. Although most of them are found in the south of the island, mainly in the municipality of Pájara, wonderful beaches can be found all over Fuerteventura.
One of the benefits of being the largest island in the archipelago is that climate can differ dramatically from one place to another… so if weather conditions in one beach is not ideal you can always find a worthy alternative elsewhere on the island.
Here are our top 6 beaches in Fuerteventura:
Corralejo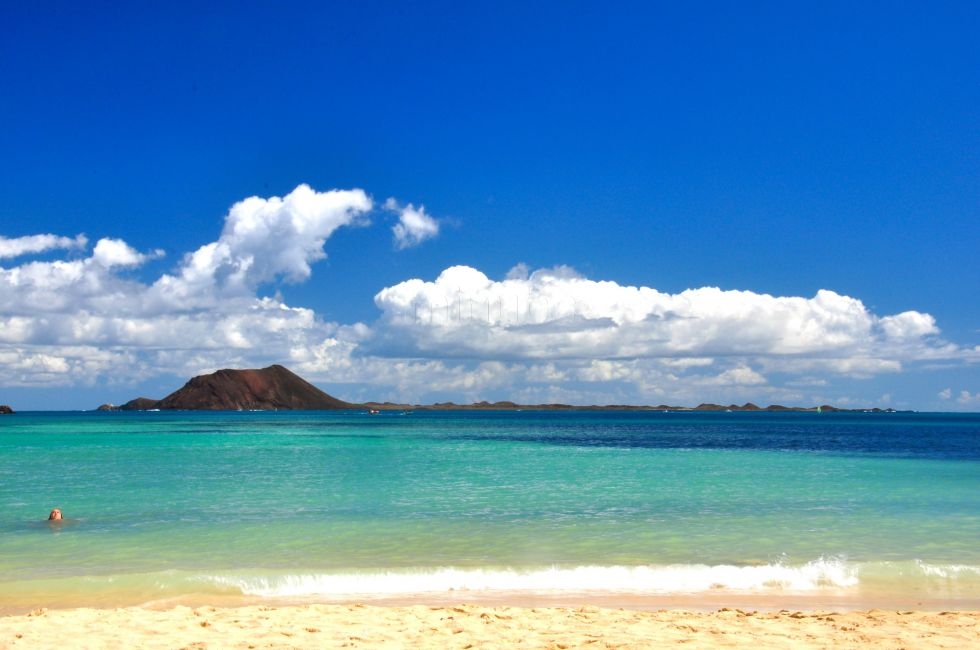 North of the island you'll find the famous beaches of Corralejo. Its tranquil waters are perfect for bathing. The highlight of this area is the Dunes of Corralejo Park, a mesmerizing expanse of sand dunes, reminiscent of the Sahara Desert, which curl into the ocean, granting its visitors a breathtaking backdrop by the sea. The beaches here are organized and offer all the necessary services.
One the great things about the beaches at Corralejo is that each one has a different vibe: some offer the best surfing in Fuerteventura, along with other water sports, such as windsurfing and kite-boarding. Other beaches are more ideal for relaxation or families.
Sotavento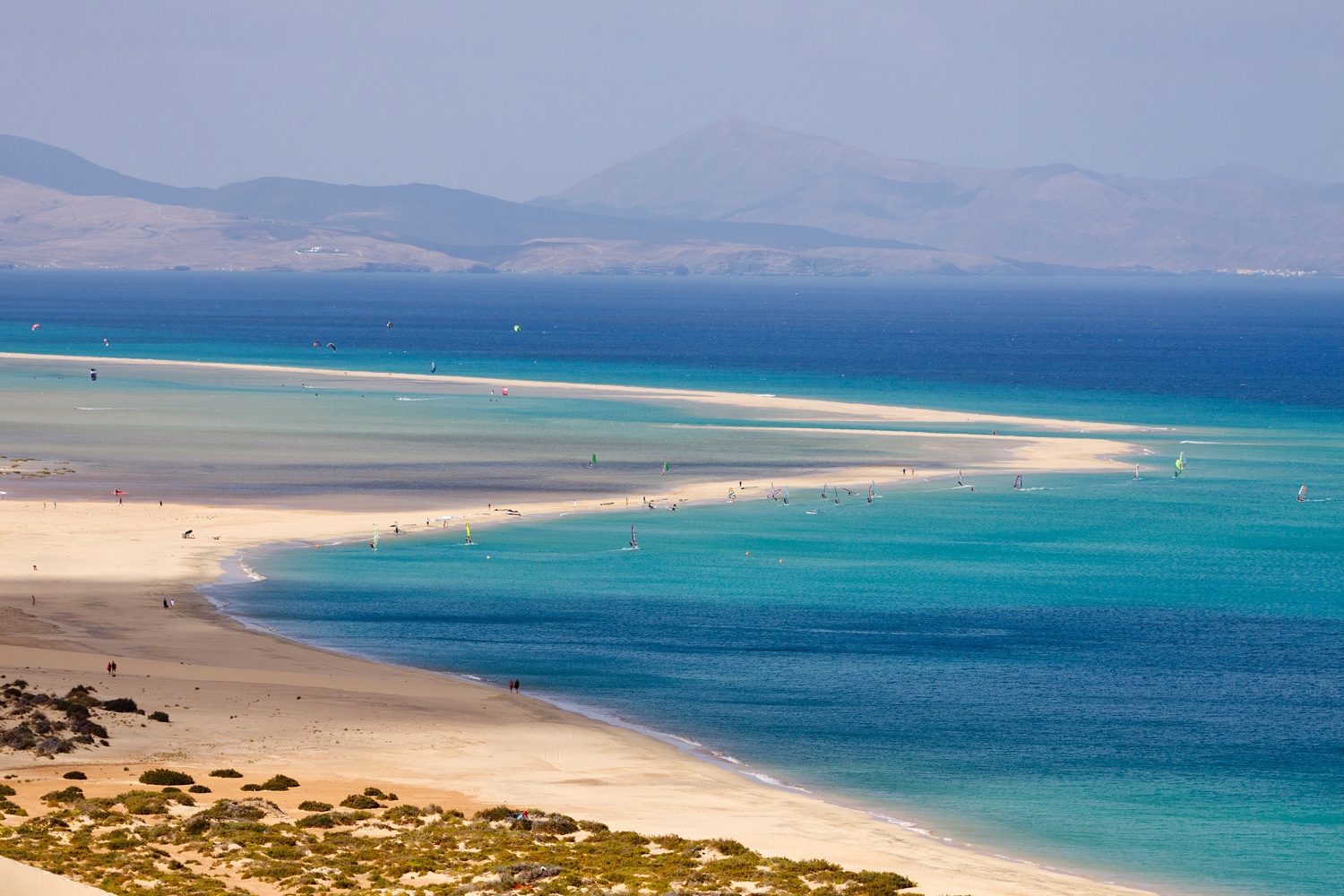 Sotavento is one of Fuerteventura's most famous beaches and a favorite among photography enthusiasts. South of Costa Calma, this windy beach changes dramatically with the shift of the tides, becoming very expansive in low tide and leaving only a long and curvy strip of sand in high tide. Because there aren't many hotels in the area very few people tend to be here, except for windsurfers and kite-boarders.
The coast in Pájara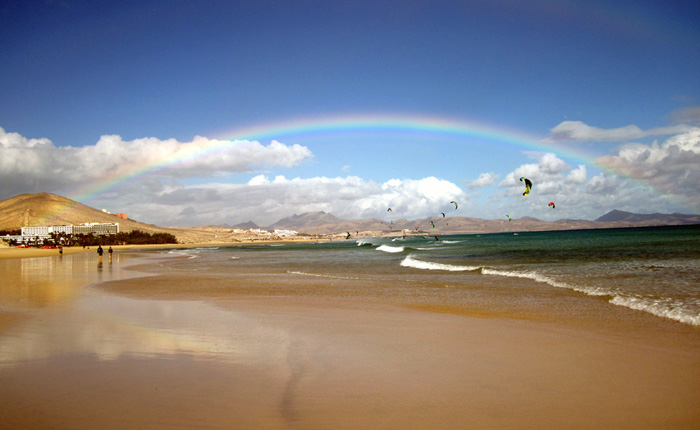 The coast in Pájara, which is south of the Island, is 150 kilometers long (the longest coast of any municipality in Spain!). This allows for 70 km of extensive and beautiful, sandy beaches. One of which is Costa Calma. If you enjoy jogging or long (very long!) walks on the beach then the extensive Costa Calma is perfect for you. The water here tends to be very calm, which makes it ideal for families as well… that said, the beach is so long that you only has to walk a bit to find a spot to be alone with your own thoughts.
For a true adventure and the most breathtaking views of any beach on the island you have to go to Cofete, a 5 km expanse on the Peninsula of Jandia. To get here one must traverse a rocky dirt road that leads you over the mountain, to the other side of the peninsula. For this trip, I recommend renting a 4×4 or SUV, although, if careful, any vehicle should be able to make the journey.
Once there, you'll find yourself in a vast, dramatic landscape, with mountains that tower above the beaches below. This area is practically uninhabited, with virtually no tourists to be seen. The water here can be quite rough, with strong undercurrents, so be cautious when going into the water.
Cofete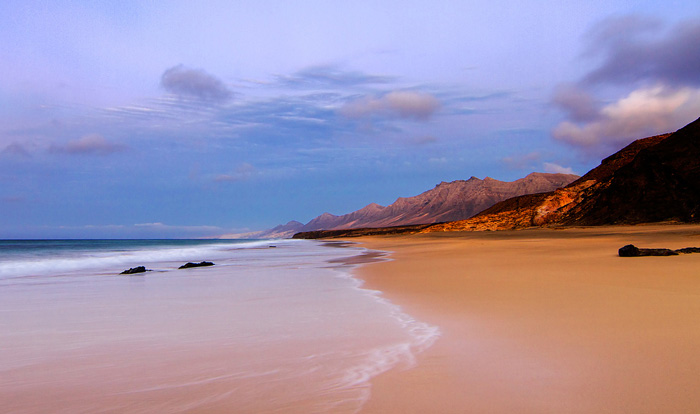 As a bonus, while at Cofete you can visit Villa Winter, an abandoned mansion and the only house on the mountain. It belonged to Gustav Winter, a German immigrant from the early 20th century who, legend has it, used this property as a secret Nazi base during World War II.
Gran Tarajal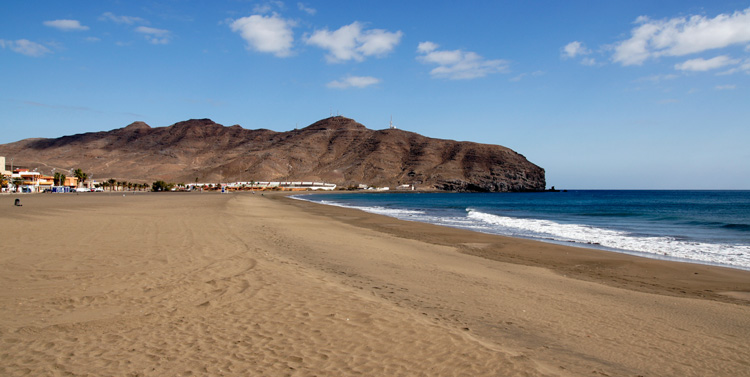 To set a different tone we'll go now to the black sandy beach of Gran Tarajal. Found in the center of the island it's an urban beach mainly visited by locals. The restaurants in the surrounding area offer fantastic sea food.
Caleta de Fuste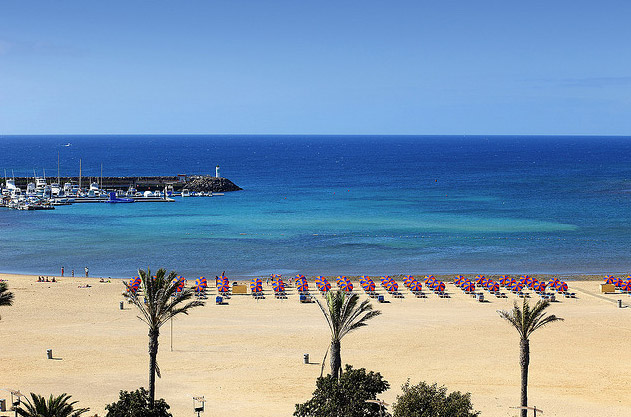 Next on the list is Caleta de Fuste, a town built around a long, horseshoe-shaped bay. The beach has a soft slope towards the water and is protected from an waves and currents.