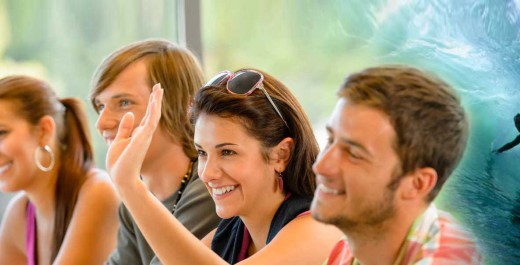 Learning a new language can be very fulfilling and valuable for your career, which is why we often associate it to traditionally academic environments… big mistake.
What is the best way to learn Spanish for beginners? What Spanish school is the best option? If you're going to take time off to learn Spanish then let me propose that you enhance that experience with a real adventure, in a special, paradisiacal place. By the end of this post I hope to convince you of this and that Fuerteventura is that special place.
Beaches: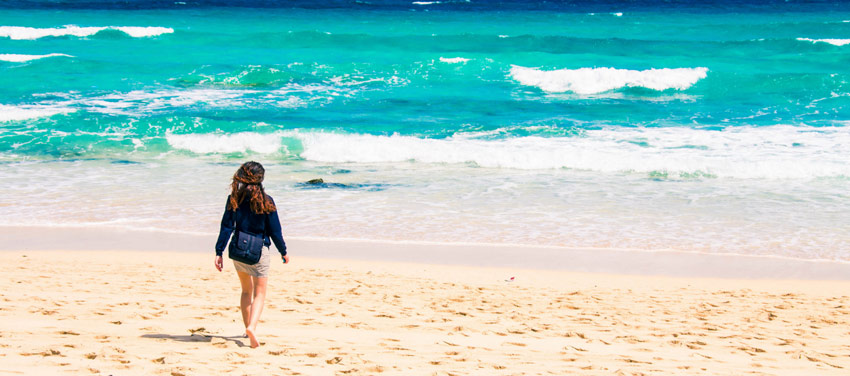 Fuerteventura has over 150 kilometers of breathtaking sandy beaches and azure waters, in other words… it's paradise! Apart from all the beaches in the more touristic areas the island has countless little coves with bright golden sand and calm water, most of which have barely been touched by man.
With some of the best beaches in the Atlantic, the southern coast of Fuerteventura, in the Municipality of Pajara, holds sugary white-sand beaches that blend into a sea of turquoise.
One of the advantages of being the largest island in the Canarian Archipelago is that you'll always have a beach to go to that suits your preference, whether it's a calm swim to relax or a windy beach, ideal for water sports, you'll find your place.
Sports: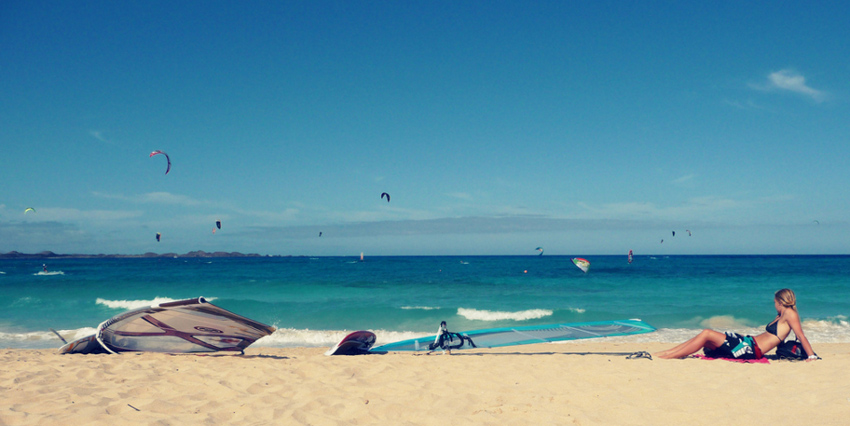 And now that I've mentioned sports, you cannot talk about Fuerteventura without commenting on the wide variety of sport activities one can do here!
Do you like water sports? Of course you do… you're reading this because you want to surf (and learn Spanish)! The strong trade wind on some of the beaches also makes the island ideal for wind and kite surfing, in fact, Fuerteventura actually means "strong-wind".
If you're more inclined to go underwater, then I recommend you suit up and go scuba diving because you'll discover submarine volcanoes, underwater cliffs, mysterious shipwrecks and life filled reefs. Believe me, it's a spectacle worth seeing!
And if you like walking, hiking or mountain biking, Fuerteventura has hundreds of kilometers of trails and walking paths through dunes, volcanoes, steep cliffs and lofty mountains. All with breathtaking views, so remember to bring your camera (or mobile)!
And for the really adventurous, paragliding is a major sport in the Canary Islands and Fuerteventura is no exception. Here you can spread your wings and take in the majestic views of this volcanic gem in the Atlantic, although maybe it's best not to bring the camera for this activity.
The climate: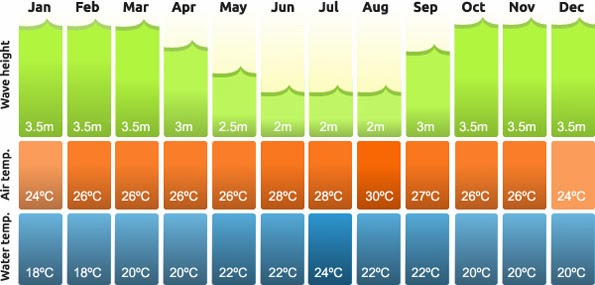 The climate in Fuerteventura is unique among other destinations in Europe. It lies in the Atlantic Ocean, only 108 km from northwestern coast of Africa. Its pleasant weather throughout the year has earned our home its nickname, 'the island of eternal spring'.
Fuerteventura enjoys long and sunny days, with steady temperatures that stay in between 21⁰ and 27⁰ centigrade, making it an ideal destination for the entire year!
Thanks to the relatively flat terrain trade winds pass right over our precious island leaving hardly any clouds behind, so rain is virtually nonexistent. Only in October will you generally get some rainfall, but that amounts to a little over 10mm of precipitation. Light showers will cover Fuerteventura for three days of the month and these usually come at night and by mid-morning the island is dry again!
Nature: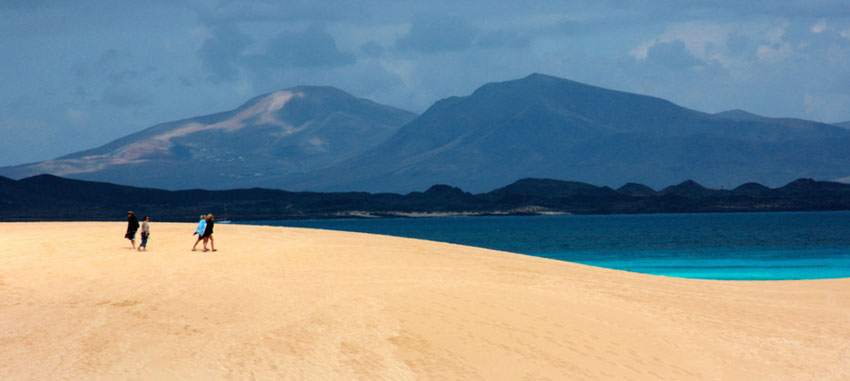 And since we're on the topic of how beautiful it is here, it's worth noting that Fuerteventura was declared a Biosphere Reserve by UNESCO in 2009, and after one takes a trip around the island it becomes clear why. The diversity of ecosystems here is incredible, from desert and semi-desert environments to a marine habitat, with a wide variety of species, including sperm whales, dolphins and sea turtles that hatch on the island's very own beaches!
It's also an ideal place for stargazers, as Fuerteventura has been named a Starlight Reserve. This is thanks to the large areas that are kept free of artificial light pollution, and by doing so the island helps promote astronomy and attracts many visitors each year in search of the perfect spot to watch the stars.
Food: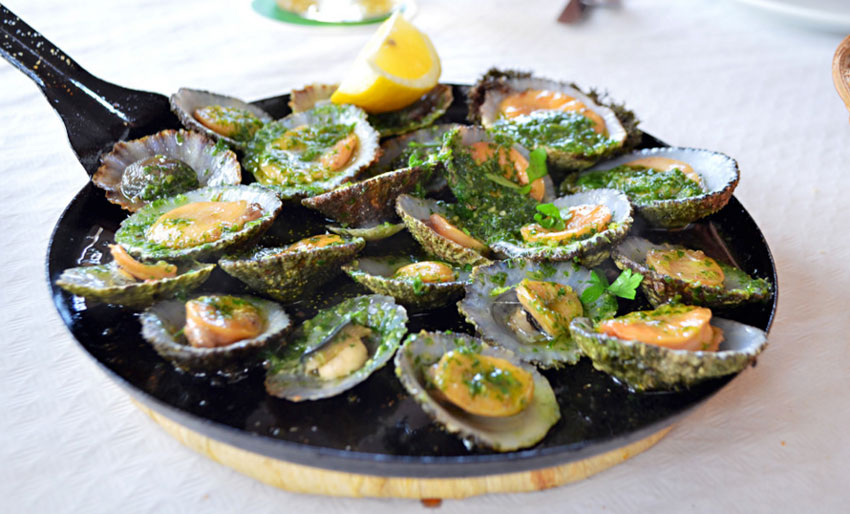 If you're a 'foodie' then you'll relish amongst the many flavours of Fuerteventura. Obviously, fresh fish is found everywhere, with restaurants advertising their catch of the day at market price.
However, the most delicious and traditional cuisine on the island definitely comes from the goat farming industry. The Majorero Cheese, often rubbed in olive oil and paprika, is a real delicacy. And then there's the goat stews and braised goat dishes. It's worth coming to Fuerteventura just to eat this dish all across the island!
We also take pride in our local food producers that supply the entire Island with delicious fresh produce like tomato, avocado, papaya and the famous 'tuno indio', which is the fruit of the cactus and is a superfood, filled with vitamins and antioxidants.
Writing about all this food has made my mouth water! Seriously, this must be the best way to learn Spanish.
Youthful environment: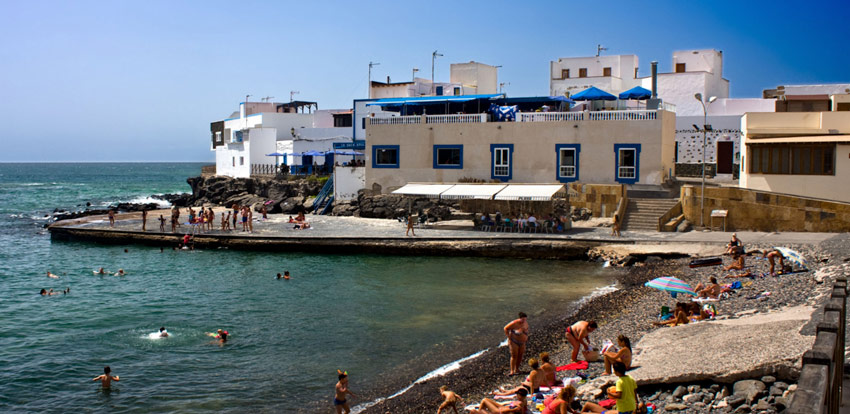 One of the my favorite things about Fuerteventura is that it attracts a lot of interesting, hip young people in search of a time-out, a good surf, an adventure or even a place to learn Spanish. This is especially true in the northern part of the island around Corralejo or the quaint fishing village of El Cotillo.
The overall environment here is so easy-going that you'll almost certainly make fulfilling connections with likeminded people. That said Fuerteventura is also an ideal place to meditate and enjoy some 'me time'.
Budget minded:
There's one more good reason for you to come and learn Spanish to Fuerteventura… IT'S CHEAP!
It's good to know that you won't break the bank by a night out of food and drinks. Also, many of the activities I've mentioned here are all at reasonable prices, the cheapest you'll find anywhere in Western Europe.
Exploring the island by car can cost as little as €10 a day through some of the local car rental services. A ferry to the neighboring island of Lanzarote is only €12.50, while a flight to any other of the islands is as low as €20!
If all this doesn't convince you that coming to Fuerteventura is the best way to learn Spanish and practice surfing, then I don't know what will.
See you here!