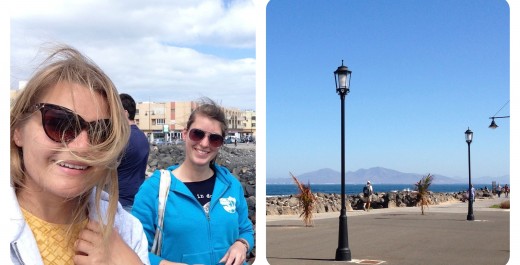 The climate on Fuerteventura is for northern europeans like eternal summer.
I arrived to the island in the beginning of March and stayed until beginning of April. At home in Finland the last patches of stubborn snow and ice was still melting in the streets and parks reminding the people that it was not yet summer.
So feeling the sun and the warmth meet my face as soon as I got out from the airport was a true pleasure. For me it felt like summer temperatures and my heat insulated nordic body started sweating as soon as it noticed that it was over 20 degrees celsius and we were not in Helsinki anymore.
The climate on Fuerteventura is in my opinion quite pleasant throughout the year. The yearly average temperature is about 25 degrees celsius. July and August are the hottest months, January is the coldest, and December is supposed to be the rainiest. The sea is as its coldest around 18 degrees warm in the spring which for me is "normal" sea temperature in the Baltic Sea in summer, so not too scary (…and while surfing you wear wetsuits anyway)!
It can be a bit windy on the island so put a hand on your hat or your toupee when un fuerte viento comes along and surprises you. Otherwise it was mostly sunny and around 20-25 degrees warm during my month with Spanish and Surf in Corralejo. A few clouds en route to somewhere else passed the island bringing a long a few misty rainfalls that surprised the locals. I think it rained those innocent thin raindrops maybe five times during four weeks, but this was according to the locals "a lot" and "unusual". But there were also the wonderfully hot days perfect for working on that tan, re-fueling some vitamin D after a long and dark winter.
But after a hot day the night temperatures that might sink a few degrees below 20 start to feel chilly, so I recommend packing along some long sleeves or a jacket and jeans. You don't want to waste time on a flu on this beautiful island!