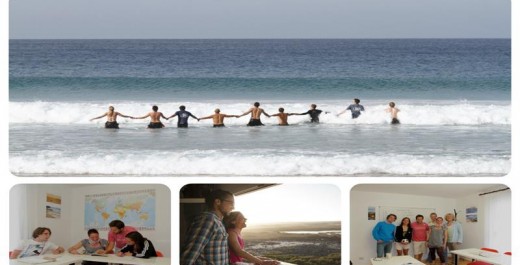 Dear students & readers!
We have finally left behind 2012 and have started 2013 with loads of energy & motivation and we want to share with all of you all the enthusiasm that the new year has brought us. Actually, It has not been hard since we have enjoyed a wonderful sunny & warm Christmas time, here in Fuerteventura, Canary Islands; Spain. We have been into the water every day, some surfing, a few kiting and diving. We have received students from half of the world, to name only a few of them: Holland, Belgium, Australia, USA, Austria, Germany, Switzerland… even we have put the check mark in our country list, as we have received students from far away countries such as Malaysia or Lebanon! We have enjoyed and learnt a lot from all of our students. We have shared stories, new experiences and we have had a great time! The vibe in the camp has been amazing, again! and the atmosphere & motivation in the Spanish & surfing courses has been remarkable! We love our students! the only bad part about your visit is that eventually you have to go back 🙁
If you have not try it out yet, what are you waiting for!? Do you want to live a great experience? Learn Spanish, go surfing and get accommodated in our great camp, Casa Carmen. All of it in a paradise island, Fuerteventura in the Canary Islands, the only sunny spot of Europe at this time of the year.
Visit our website www.spanishandsurf.net/fr and find all the related info.